Getting started at Gracie Barra is easy
and intro session absolutely FREE!
HOUSTON MIXED MARTIAL ARTS PROGRAM
HOUSTON MIXED MARTIAL ARTS PROGRAM
Gracie Barra Westchase's Most Complete Training Program
Mixed Martial Arts (MMA) program in Houston is a full contact combat sport that allows the use of both striking and grappling techniques, both standing and on the ground, including boxing, wrestling, Brazilian Jiu-Jitsu, Muay Thai, Kickboxing, Judo, Wrestling and other styles.
The roots of modern mixed martial arts can be traced back to the ancient Olympic combat sport of Pankration. Various mixed style contests also took place throughout Europe, Japan and the Pacific Rim during the early 1900s. The combat sport of Vale Tudo that was developed in Brazil from the 1920s was brought to the United States by the Gracie family in 1993, with the founding of the Ultimate Fighting Championship (UFC), which is currently the largest MMA promotion company worldwide. Prior to the UFC, professional MMA events had also been held in Japan since 1989.
The less regulated Vale Tudo style bouts of the early UFCs were made safer with the implementation of additional rules, leading to the popular regulated form of MMA seen today. Originally promoted as a competition with the intention of finding the most effective martial art for real unarmed combat situations, competitors were pitted against one another with minimal rules. Later, fighters trained multiple martial arts into their style while promoters adopted additional rules aimed at increasing safety for competitors and to promote more mainstream acceptance of the sport.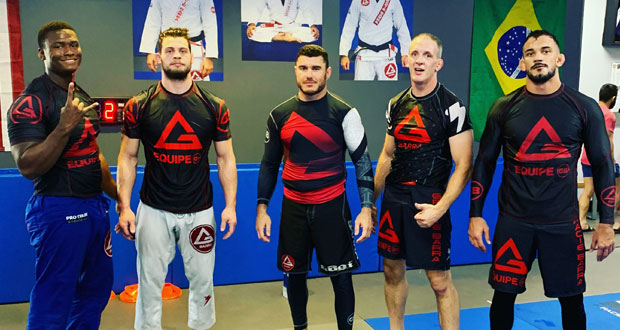 Getting started at Gracie Barra is easy
and intro session absolutely FREE!
Houston Mixed Martial Arts
Houston Mixed Martial Arts is, by definition, a sport which is a combination of multiple martial arts. So, at Gracie Barra Westchase our training program is just this; a training combination of Brazilian Jiu-Jitsu, Wrestling, Judo, Muay Thai and Stand-Up.
To be a member of our Mixed Martial Arts Unlimited Program you must obtain three stripes on your white belt in Brazilian Jiu-Jitsu training (approx. 4 – 6 months) prior to being eligible to train at certain classes unique to the program (including: BJJ for Mixed martial arts, NO-GI BJJ). Martial Arts Unlimited Program members are able to train at all classes listed on our schedule: ALL BJJ CLASSES, WRESTLING, MUAY THAI, CARDIO KICKBOXING, & BJJ FOR MMA. Some exceptions are made to this for students with prior experience etc., but we use this as a general guideline for this program.
If you are not a third stripe white belt, we have different program levels that will fit your needs and level of experience to get you there! Our Muay Thai/Cardio Kickboxing, Wrestling and Brazilian Jiu-Jitsu Programs are taught for all levels and you may enjoy any one or multiple programs as a beginner.




Getting started at Gracie Barra is easy
WHAT TO EXPECT IN YOUR FIRST CLASS
We recommend you arrive 10 minutes before schedule, so we can get you the proper loaner equipment, if needed, and get you signed in as a trial member. Be sure to wear comfortable clothing you would normally work out in. When lining up to begin practice, you'll notice the instructor has a precise plan for the class. This is standard. The class routine is always similar so you know exactly what to expect during each part of practice; the techniques change, though! You'll also find strong support from your peers. By the end of class you'll be physically tired but mentally exhilarated. Once you have finished the class, we provide you the opportunity to ask any questions with one of our program directors as well an explanation of the class programs we offer.

Getting started at Gracie Barra is easy